Northern Lights of Scandinavia - Small Group, Winter
Booking Dates
12/29/2022 through 02/12/2023
Travel Dates
12/29/2022 through 02/24/2023
Provider
Insight Vacations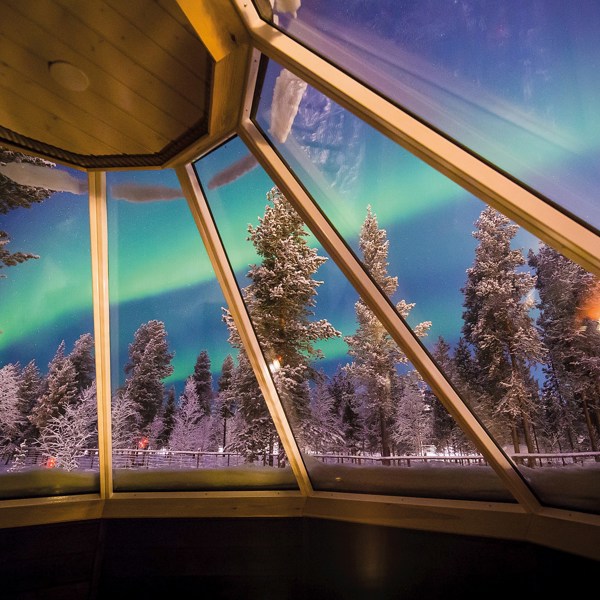 Northern Lights Of Scandinavia – Small Group, Winter
See the Northern Lights from Scandinavia's breathtaking mountain tops on this 10-day tour of Helsinki, Alta and Oslo. Journey through Finnish Lapland—250km above the Arctic Circle to Ivalo, the Gateway to the North. From the comfort of your cozy cabin in Aurora Village, gaze out through the glass roof as the lights of the aurora borealis dance above. Cross the Finnish-Norwegian border to North Cape and sample caviar in Europe's northernmost point, before a once in lifetime visit to a working husky farm. Here you will meet the Arctic dog sled racing Alta huskies—a world famous champion dog sledding team, before a stop in Tromsø where the indigenous Sami community invite you to help feed their reindeer herd. The vacation draws to a close on the scenic, and once Viking, shores of the Oslofjord.


Dining Summary
9 Breakfast (B)
2 Dinner with Wine (DW)
3 Dinner (D)
1 Lunch with Wine (LW)
Additional Included Highlights
: Our highly-skilled Travel Director will ensure your journey is seamless, serving as your expert guide, consummate organiser, and friend overseas.
: Personal radio headsets give you the freedom to wander during visits to famous highlights, without missing any of your Local Expert's fascinating commentary.
: We carry your bags for you and promptly deliver them to your hotel door.
: Hotel and restaurant tips are included – you'll never have to worry about how much to give, nor search for foreign currency. We also include all taxes and porterage charges at hotels.
: Stay connected with friends and family with our complimentary coach and hotel Wi-Fi (where available).
: From time to time, your Travel Director will delight you with an Insight Flourish, which is a local specialty representing the destination.
: If your arrival and/or departure flights are as per the itinerary start and end dates, then transfers are available at scheduled times. If your flights are outside these times, or you have booked additional nights accommodation with Insight Vacations, you may purchase transfers or make your own way from/to the airport.
Authentic Dining
Ivalo: Your delicious Welcome Dinner will be served at the boutique Aurora Village hotel.
North Cape: There is no better way to search for the Northern Lights than by toasting to your adventure with bubbles and caviar at North Cape, the most special place on earth.
Alta: Head for drinks at a local ice bar, where you'll get the chance to catch up with your fellow travellers.
Alta: Savour a delicious oven-baked lunch of local seasonal specialities of fresh salmon or the local's favourite, reindeer, served with fresh salads and wine.
Tromso: Dine on traditional food, served with hot drinks with the fascinating Sami people, as you hear tales of Scandinavia from its indigenous people.
Oslo: Scandinavian hospitality is matched with fine food and a glass of wine at your Celebration Dinner.
Insight Experiences
Alta: Meet the Lyrek family and their huskies. Hear tales about their marathon Arctic dog sled races during a hearty lunch.
Make Travel Matter
Tromso: Delve into the fascinating history of Scandinavia in Tromsø. Norway has recognized its Sami population as indigenous and has special rules for the protection of Sami cultural heritage. A Sami family welcomes you into their reindeer camp to share their traditions, culture and history, and to enjoy an evening of dinner and games.The camp safeguards traditional practices that are significant to the Sami tribe. Visitors are educated about the sustainability and resiliency of their community. The Sami Camp advances UN Sustainable Development Goal 11: Sustainable Cities & Communities.
Top Rated Highlights
Honningsvag: During your orientation with your Travel Director hear about the past and present of this small fishing community.
Alta: Enjoy an orientation of Alta, where the world's first Northern Lights observatory was built at the end of the 19th century. With increasing tourism the city is going through quick development offering a wide range of activities.
Tromso: Enjoy your orientation of Tromsø, Northern Norway's largest city located on the island of Tromsøya.
Oslo: On your orientation of Oslo city, see the Oslo Opera House and the new Deichmann Librabry in the contemporary Bjørvika district.
Travel Director
: "One thing I really love about showing guests about Norway is how people have lived and flourished for thousands of years in harsh, unforgiving yet, stunningly beautiful landscapes."
: "I love to see how guests respond to Norway's northern fjords. When the Lyngen Alps appear for the first time, a majestical mountain range in northeastern Troms county in Norway, every single guest goes "wow", "ooooo" and "aah". Then every single camera comes out begging for a photo stop. It certainly is a phenomenal moment of pure beauty."
: "One thing I really love about showing guests the Arctic in winter is the otherworldly quality of light. Because of the extreme latitude and the very short daylight hours, it's always either sunrise or sunset. It makes for sensational photos."
Well-being
: Enjoy the comfort of Insight's luxurious, air-conditioned, 40-seat coach with double the standard legroom and onboard washroom. Our customized luxury coaches are sanitized before the start of your tour and are maintained to very high standards. Physical distancing measures have been implemented on our customized luxury coaches.
: Experience enhanced hygiene protocols to align with the latest guidance following COVID-19.All Travel Directors, Well-Being Directors and Drivers have completed training in enhanced well-being…

| Day | Description | View All |
| --- | --- | --- |
| Day 1 | Welcome to Helsinki. | Details |
| Day 2 | The gateway to Lapland | Details |
| Day 3 | Ivalo to Honningsvåg | Details |
| Day 4 | Northern Lights in North Cape Relaxed Start | Details |
| Day 5 | North Cape to Alta | Details |
| Day 6 | Alaskan Huskies in Alta Relaxed Start | Details |
| Day 7 | Norway's gateway to the Artic | Details |
| Day 8 | Delve into Scandinavian history | Details |
| Day 9 | A merry finale in Oslo | Details |
| Day 10 | Farewell Oslo | Details |